When you think of comfort, your house is the first thing that comes to mind. Home is the space you share with your immediate family and allow your friends and family into that zone. It is the reason your house has to be clean, presentable, and welcoming. It would help if you did not go running around to clean and make it look better when the door knocks. You don't have to be an expert in interior decoration either – just read on.
Though this might sound like a huge task, it is not. You might have a small house, but that is no excuse to keep it chaotic and unwelcoming. There is always a way to make it look beautiful. Firstly, you must cherish your house, look around it gently, and be grateful for it.
The walls of your home must spark joy in you instead of anxiety and frustration. Once your house begins to make you happy, you will want to make changes to the interior decoration to make it look better. Then, you must use these five easy and inexpensive tips to keep your house presentable and welcoming:
Put effort into the entrance of your house
The entrance of your house must radiate joy for you and your guests. Even those who pass your home must be glad about how immaculate your place looks from the outside. It isn't tricky to keep the outside of the house presentable and welcoming if you genuinely love your home.
If you own a garden, you must keep it clean, mow it regularly, and take care of your plants. Moreover, you can put some fairy lights in your yard to give it a warm glow at night. You can personalize pots by putting pictures on them or just by painting them. If you don't have a garden or lawn, you can still make sure to clean the entrance of your house at least once every week. You can decorate it with individual plants, lights, pictures, and showpieces from your favorite store.
Organize with minimal storage spaces
Organizing your stuff is the essential key to making your house look presentable and comforting. You must let go of all the unnecessary and broken things that are in your home, including clothes that you do not wear anymore. Your house must look spacious just by doing that.
If your house still looks chaotic, the following items will be helpful. It would help if you had some minimal storage spaces like drawers under the bed, sofas with storage spaces under it, small standing shelves to create more spaces in drawers, sofa-cum-beds instead of single beds for your kids.
Learn the art of putting mirrors in your house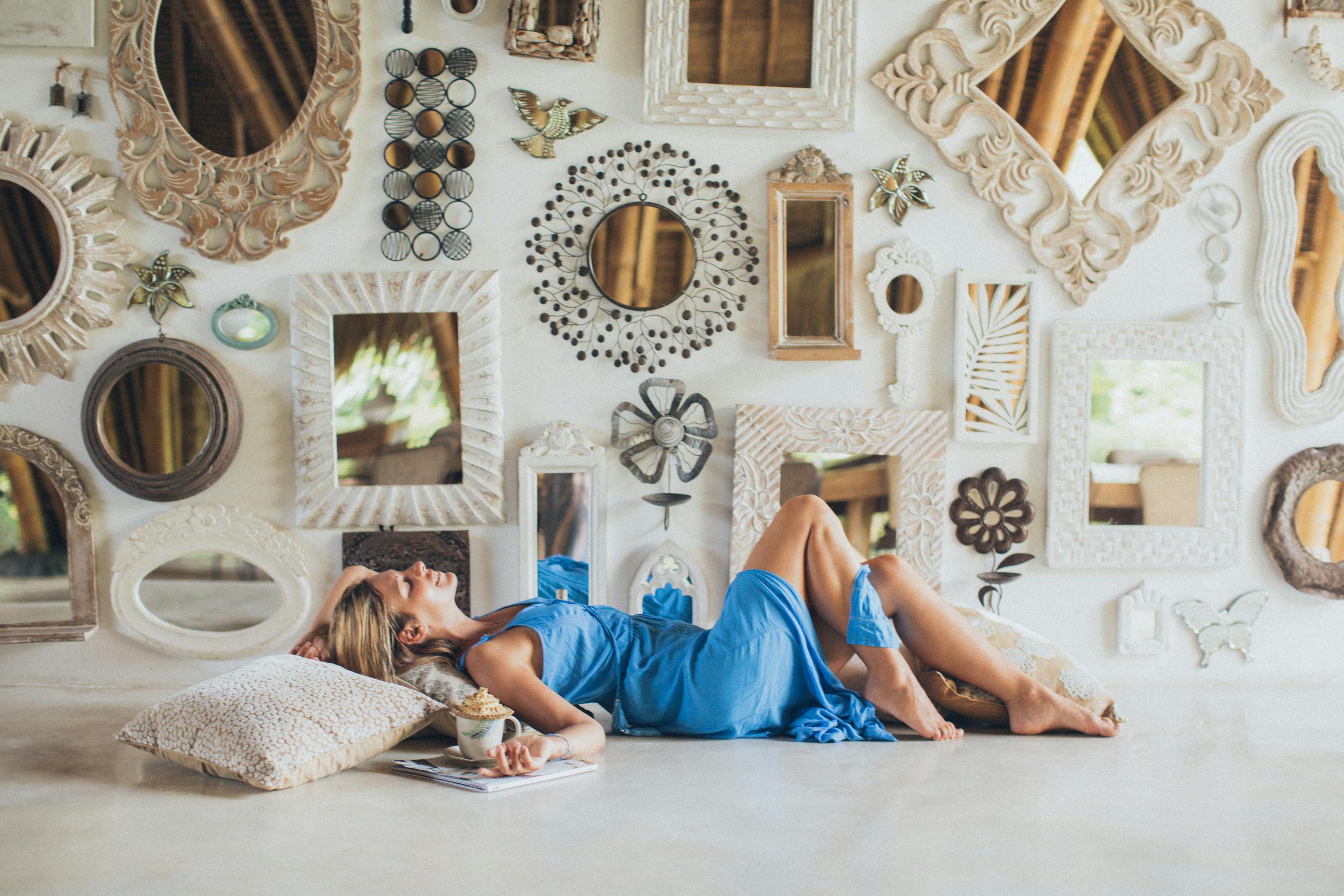 Mirrors can amplify the look of the smallest of places and make them look chic. Honestly, you can put mirrors anywhere, and they would make that space shine. The wall mirrors make space look bigger. You do not need a huge space to put a full-length mirror in your house. It can fit in your lounge, which separates any two rooms. You can put it on the wall beside the kitchen too.
Moreover, you can put some small stylish mirrors above sofas or an empty drawer. There must be a big mirror with a thin frame in the bathrooms too. Mirrors can be a great way of giving attention to the spaces of your house, which are often unattended. If you want to keep the décor minimal, you can either use huge mirrors with thin or no frames or small frames where needed.
Know the curtains
Curtains are a game-changer if you know how to choose curtains and where to put them. You must know how to select the color of the curtains. If your room is in a light color, a darker shade of a curtain will look great. If your room is in a white or grey tone, you can opt for a brighter complexion. You can also go for a combination of colors.
Another tip for putting curtains is that the higher you fit them, the spacious your place looks. Also, you can go for a catchy rod for curtains to give your room a sharp look. You can also opt for minimal prints if you like printed curtains, and the walls of your place are plain. You must only opt for heavy curtains if your room is exceptionally minimal. Also, go for creative and catchy curtain ties to keep your space presentable and beautiful.
Color Schemes
Choosing the colors for each space of your house is probably one of the hardest tasks and sets the tone for the whole house. If you decide to go simple with white or skin color, you might want to put a lot of effort into decorating your home in other ways. However, the recent trend shows that you can choose a different color for each space. That makes your house looks a lot vibrant and welcoming. You will have a massive range of decoration pieces to choose from to make your house look pretty. You may also go with a lighter but vibrant color palette.
This way, your home will look more presentable. To uplift the interior decoration, you may go with the classic white, you can bring some color to your house with your favorite plants while playing with black décor. The key here is to go for the vibe you want your home to have.
You don't have to be an interior decoration expert
I will conclude the blog with a bonus tip here: do not forget your bathrooms. They also need to look clean and presentable. Organize bathroom accessories with extra wall shelves and put a plant or a candle. You can also hang a frame there if there is enough space. You don't need to be an expert on interior decoration, simply follow these easy tips; you can see how your house becomes a lot more presentable and welcoming than it already is.